Return to Headlines
Stormwater Basin Redesign Take Shape at Readington Middle School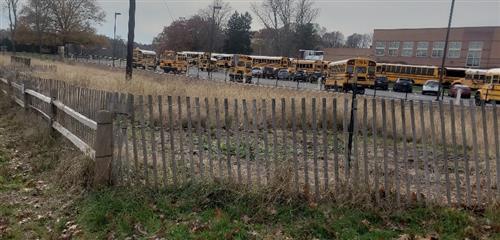 Stormwater Basin Redesign Takes Shape at Readington Middle School
The fenced-in stormwater detention basin next to the bus parking area at the Readington Middle School continues to grow and evolve. The collaboration between the Board of Education, the District Green Team, Readington Township, and its Environmental Commission is funded by a special Clean Water grant through N.J. Department of Environmental Protection.
The project is an excellent example of employing green stormwater management practices and is part of the District commitment to environmental stewardship and River Friendly Schools recognition.
The design was engineered to capture the stormwater runoff from the roofs and parking lot areas of the Readington Middle School and to filter sediment and pollutants out using native New Jersey plant materials that also serve as habitat for wildlife. The basin slows the speed of the property's stormwater, allows more of it to be re-absorbed into the soil and reduces the potential of flooding of our downstream neighbors. In an average 1" rainfall event up to 200,000 gallons of stormwater can be generated at the Middle School and its parking areas.
Season #1 is just winding down. The fast flush of grasses from the Summer is dying back now and the roots systems of the plants will continue to grow with the cold rain and snow of Winter. The snow fences will no longer be needed in the Spring when we will see a flush of new color from flowering and woody plants that will pop up in the environment and take over the grasses in Seasons #2 and #3.
Students will be using the basin habitat as an outdoor classroom laboratory utilizing science and mathematics content to study the water cycle and wildlife that is part of this mini-ecosystem. Be on the lookout for constantly evolving changes in this interesting and dynamic "neighborhood" in the coming months as you visit the school and district offices. An official dedication will be made in late Spring before Summer break.
By Steve Foster, Readington Twp. Environmental Commission
Readington Township Environmental Commission website:
https://www.readingtontwpnj.gov/boards-committees/environmental
Contact: Doreen Harris/908-534-2897
dharris@readington.k12.nj.us